The Anderson provides a variety of nursing & rehabilitation services, coordinated by an experienced Care Management Team including:
Spacious rooms with visual privacy, even within the Semi Private Rooms
In suite Bathroom with Shower
Wall to Wall Carpet
Individual Climate Control
Wireless Internet & Cable TV
Private Telephone Connection
Private Window with a View of our Beautiful Landscaping
We are able to accept a variety of insurance plans including: Medicare, Medicare Advantage Plans, Medicaid and Private Insurance. We look forward to assisting you, in coordinating your stay.
Please contact us with any questions you have, click here.
Short Term Rehabilitation
Our therapy and skilled nursing staff are prepared to offer interventions following hospitalization or general decline in physical abilities.
Most people come to The Anderson after they have been in the hospital due to an event like; a Stroke, Heart Attack, Illness or Infection (i.e.: UTI, Sepsis, Pneumonia, COPD) or Orthopedic Surgery.
Your therapy schedule is based solely on YOUR tolerance level, not insurance reimbursement allowances. Opportunities for progression are offered up to 7 days per week, with consistent therapists to promote your highest functional level. Our in-house therapy staff brings diversity of experience to promote success no matter the limitation.
Our Social Services Coordinator, is responsive to resident and family needs during transitions to our facility and when preparing to return home. Coordinating home care, outpatient, durable medical equipment needs and more, we strive to provide a seamless transition for optimal outcomes. If going back home is not the goal, then the Social Service Coordinator will assist in locating the best option for you. Whether it be to an Independent Living Apartment, Assisted Living or Long Term Care facility, including our own.
Skilled Nursing & Long Term Care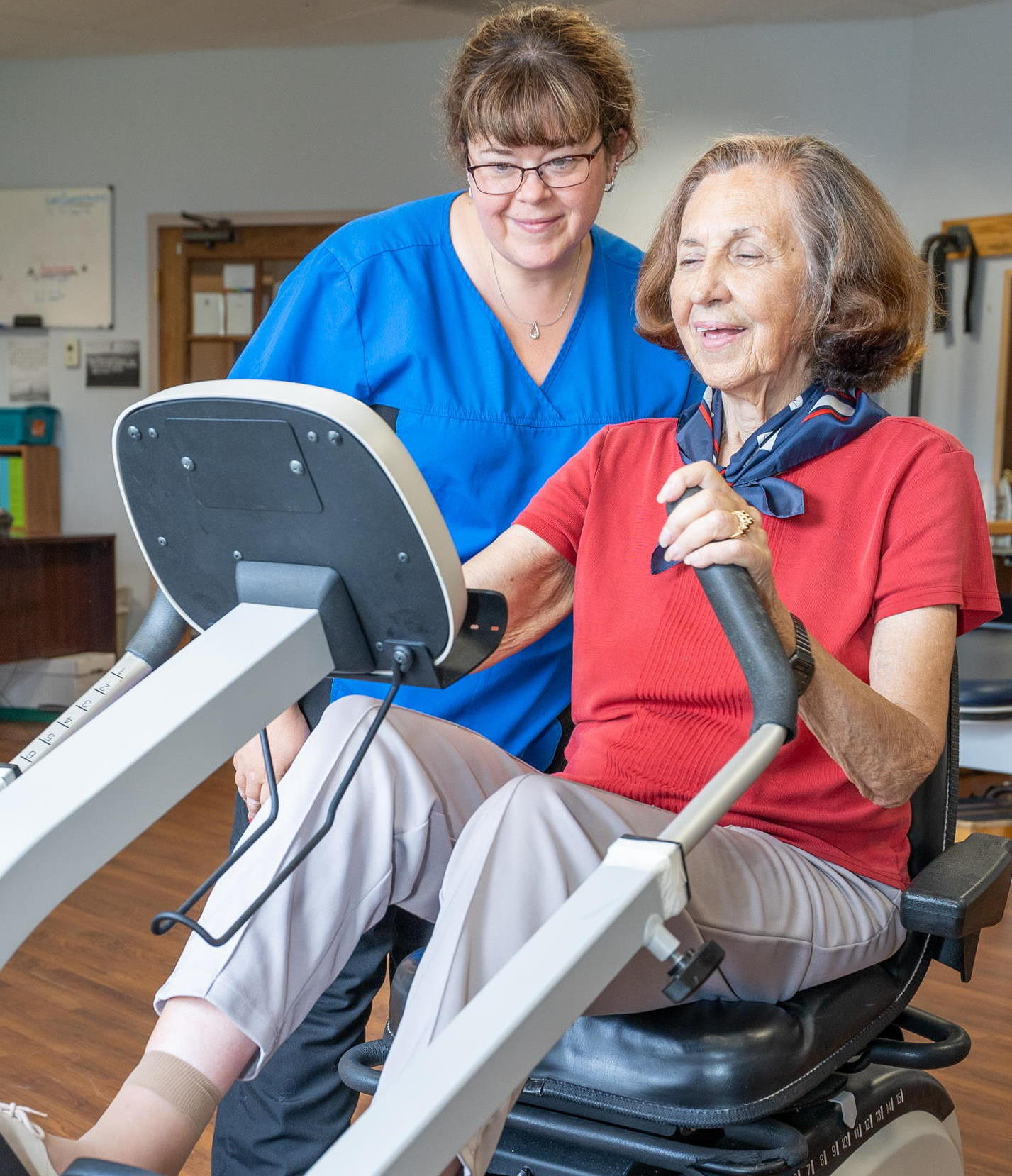 Our family of nurses and STNA's are ready 24 hours a day to provide quality care beneficial for maintaining highest functional level for medical, physical and cognitive needs. Combined with our many other departments, the residents of The Anderson can expect full service care.
The Anderson provides skilled wound care services to promote skin health with the guidance of a Wound Care practitioner. Utilizing a variety of approaches, our goal is to maintain pressure reduction and positioning to allow progressive healing.
In addition to our nursing services, we are proud to offer:
Full service Laundry
Meals and Kitchen
Activities
Restorative
Housekeeping
Maintenance
Hospitality
Administration and Front Office Personnel
Admissions and Social Services
Hospice
End of life planning is a difficult topic, however, we at The Anderson try to ease the transition allowing the resident to remain in their home environment as long as possible. Our nursing staff work directly with the Hospice company of your choice, to provide the highest quality of comfort care possible, honoring the wishes of the resident.
We allow transition to private rooms, to encourage family visits and privacy in the final hours. With a complimentary snack bar to promote the caregiver's wellbeing, while you focus on your loved one's last wishes.
Outpatient Therapy
Looking for a little fine tuning? Our therapy team is ready to provide strength training and the extra boost you need to keep your success and progress going! With a variety of exercise equipment and modalities on hand, we are ready for any challenge you may face!
Ultrasound
E-stim
Hand and bar Weights
Customized resistance band exercises
Pulley
Nustep
Parallel bars
Hot and cold therapy
And more!
Workout in an environment you know, with a staff that knows you and your health care needs on a schedule that fits your busy lifestyle.
Are you new to our therapists? Is your family member here and you'd like to benefit from the therapy services as well? No problem! You do not need a stay to qualify for outpatient services, call us today to schedule an evaluation!